Well, as promised, 'le Festival' otherwise known as Glandonbury is finally here. The 30th July this summer will see a day of music and fun at our place, over in the field that runs down to the lake. We've set up an 'Association' called Do Ré Mi as the organising committee and with the support of the commune and a few willing friends we are a go go.
We've booked 8 groups – two well known French bands, another slightly less well known, 2 great acts from the UK, the local secondary school choir, a drum and dance African inspired group from Limoges and a cover band from Perigueux.
There will be things to do and challenges for all and an area for the kids, they'll even have their own bar. We've hired a pro sound and lighting company to ensure that it's top notch and are in the process of working out the food which we assure you will be really good too. There will be local beer and local organic apple juice as well.
We look forward to welcoming loads of friends, locals and visitors for the day. We kick off at midday and will go through to about midnight. Click here for the festival website where you can buy tickets and find more info about the groups.  If you are into Facebook then we have a page which you can find here where we occasionally post bits of info.
A mini version of the poster for the festival looks like this: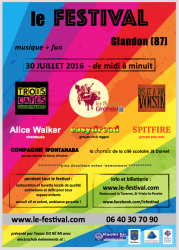 A pdf version is available here Festival Poster. Feel free to print off copies or share it with friends.