🇫🇷 Nous regrettons que le site en français n'existe toujours pas. Pour vous guidez clicker sur l'onglet 'portfolio' pour voir quelques réalisations, et 'news' c'est des nouvelles !
Woodwork and building, baskets, prints, chopping boards, carp fishing holidays, a short or long break in the boathouse or studio; la maison in the Limousin region of France is a hive of activity:
In the bottom corner of the Haute Vienne on the border with the Dordogne and the Correze is where we live and work, in a small village called Glandon. Our patch is made up of 15 hectares of fields, a wood and a lake and although it might seem a million miles away from anywhere, with the help of the internet and the breaks we offer you can share it with us.
Take a look at our shop and news pages to see what's going on. Look at our work on the portfolio page. If you are a keen carp angler then you'll love the lake – Birch Water Carp Venue is a high quality, well stocked and jaw droppingly beautiful place to come.
For those more local to us, we have a purpose built workshop from where all sorts of woodwork and building projects come from.
Feel free to contact us to discuss any of the things that we've got going on.
in the shop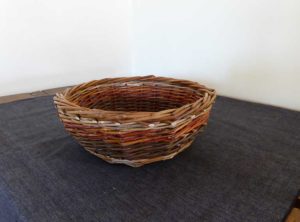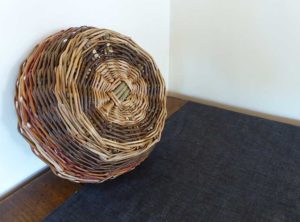 small rustic basket no.4
A small rustic basket in mixed willow. Hand made by Zoe using techniques learnt at the French National Basketry School at Fayl-Billot! Five different willows used in this basket. The basket measures 18cm at the base and is 9cm high measuring … read more…
€

26.00
Add to cart